BeeBee @ Paris Deli
| | |
| --- | --- |
| Added by Beebee at 2:58pm, Mon 28th November, '11 via pc | |
This General Listing is linked to: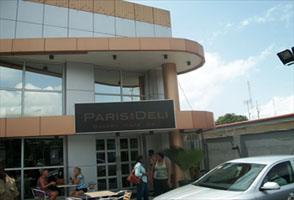 A lovely place to spend the weekend with a friend, partner, a good book or your dear laptop is somewhere on Akin Adesola. On the opposite side from Frenchies Bakery. The spot is called Paris Deli.

Paris Deli is a nice, warm and cosy bakery/patisserie with a wi-fi spot. I stopped by the other day and had this divinely delicious chocolate tiramisu. They've got tons of freshly baked goods, brownies, croissant, cupcakes and they've got a menu for proper food too. If you love your Ice-Cream, they've got that as well.

The best part in my opinion is the cosy interior, it's the kind of place where even if it's crowded, you could still get the 'I'm-the-only-one-in-here' feel.

Very refreshing spot to hangout this weekend!